MANU-3
DIGITAL PRESSURE GAUGES CLASS 0,1%

The microprocessor of MANU-3 reads the signal of the piezo-resistive pressure sensor with 0,1% accuracy in a temperature range from 32 to 122 °F.


The top display indicates pressure being measured and bottom display maxi or mini value since last RESET.


Function RESET / ZERO / AUTO POWER OFF / UNITS : mbar, hPa, KPa, MPa, PSI, Kp/cm2


This gauge can be supplied with integrated light.
(-15 to 43 psi ) / (0 to 10150 psi )
PDF
MANU-4 / MANU-5
DIGITAL PRESSURE GAUGES

The digital pressure gages with microprocessor of the new generation MANU-4 and MANU-5 consist of an analogic part having a great stability in time and a convertor ensuring internal resolution of 65000 divisions.
These features associated with an accuracy class of 0,2 % (MANU-5) and 0,05 % (MANU-4) make these instruments very competitive as reference gauge.
The pressure gauges MANU-4 and MANU-5 are powered by an internal battery having 1 year autonomy and protected by the function "automatic extinction" after 30 minutes if no pressure variation has been detected.
Main features :


1 year autonomy without loading


Programmable measure units : bar, mbar, MPa, Kpa, PSI


Display of pressure level reached with regard to mini and maxi of measurement range


Programmable resolution


Programmable digital filter


Peak function : display of maxi pressure and mini pressure
(-15 +15 psi) / (0 +29000 psi)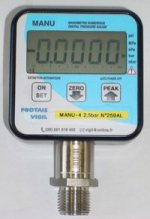 PDF